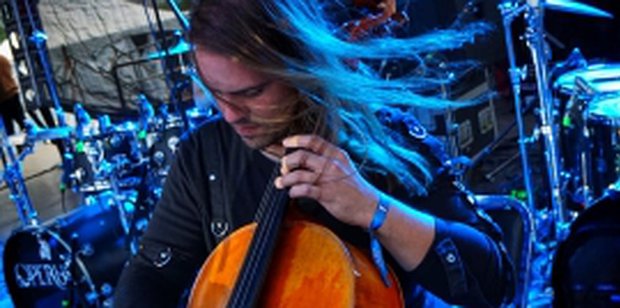 Here is a music video for the latest single release entitled 'Where Falcons Fly' by the the band Operus. The footage was shot at the Hell and Heaven festival and the Wacken Open Air festival in 2018. The Hell and Heaven festival was held in Autodrómo Hermanos Rodríguez in Mexico City and Wacken 2018 was held in Wacken Germany. Both festivals featured bands such as: Ozzy Osbourne, Scorpions, Deep Purple, Judas Priest, Megadeth, Marilyn Manson, Bad Religion, Mastodon, The Darkness, Refused, Testament, Sabaton, Moonspell, Dead Cross, Gorija, Saxon, Killswitch Engaged, Over Kill, L7, Hollywood Undead, and many more.
Where Falcons Fly is the second single release from the album 'A Score of Nightmares' which will be released by Sony Music on June 19, 2020. The first single was entitled 'La Llorona' and is written based on the legend from Latin American folklore, specifically Mexican. La Llorona tells the tale of the weeping woman (the Ghost of Maria), a woman of famed beauty whom in a fit of rage drowned her children in a river as a result of her husband turning his attention to a younger woman. Realizing what she had done, Maria took her own life by drowning herself in the very same river. Since that day Llorona's cries can be heard as she looks for her children in search of forgiveness often causing misfortune to those who are near or hear her screams. The album 'A Score of Nightmares', features a blend of Classical, Heavy Metal, and Hard Rock music.
Operus band members include: David Michael Moote (vocals), Oscar Rangel (guitar), Dean Paul Arnold (guitar), Wojciech Sokolowski (bass), Robin Howe (cello), and JJ Tartaglia (drums). The lead singer David Michael Moote is a graduate of the Schulich School of Music at McGill University in Montreal, Quebec, Canada. David is a Tenor with a very powerful singing voice and a huge vocal range. Neighbour Note cello teacher Robin Howe is the band's cello player. His haunting cello parts sound both amazing and beautiful and provide an excellent contrast to the heavy guitar, bass, and drum sounds of Oscar Rangel, Dean Paul Arnold, Wojciech Sokolowski, and JJ Tartaglia. Robin has completed a Master of Music degree and a Bachelor of Music degree from the Don Wright Faculty of Music program at Western University in London, Ontario, Canada. Robin has been teaching cello lessons with Neighbour Note since 2010. JJ Tartaglia is an amazing versatile drummer. He also performs in the Juno Nominated band Skullfist right here in Toronto. Oscar Rangel, the band's creator founded Operus in 2006. Oscar composes most of the music for Operus which is an nice balance between Classical and Heavy Metal. Oscar is a Classical guitarist who also plays electric guitar. He specializes in Heavy Metal guitar. Oscar teaches guitar lessons in Toronto and has been a long time faculty member at Neighbour Note since 2007.
Congratulations Robin and Oscar! We are so proud of your epic performances both locally and at major international music festivals, amazing recorded albums under the Sony Music label, and fantastic music videos. We wish you continued success.