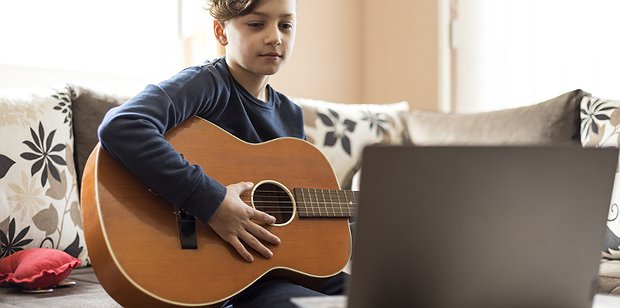 Music lessons and practice are fundamental to your child learning music at home. Whether guitar, piano, violin, or flute, focused practice is essential. But during coronavirus lockdown, even when your child may have more time than usual, motivating them to attend lessons and practice their instrument may not be easiest of tasks. Online guitar lessons or online piano lessons – whichever instrument your child is learning – are all ideal ways to help them progress to the next level, particularly during the current crisis. So before you search for the best guitar lessons Toronto has to offer, read this guide on how to build your child's musical motivation.
Tips on motivating your child to practice music
Here are some of the best tips music teachers at Neighbour Note have learned during our combined years of teaching and parenting.
Pay attention but don't overburden your child
This can be a tough line to walk, but paying attention to your child and praising them when they practice – without demanding more every time – is key to your child's success in practicing their instrument. Music is meant to be fun. If a child is feeling too pressured by home piano lessons then the fun will quickly end.
Show them it's a pleasure, not a chore
Nobody wants to do something they feel forced to do, especially a kid. By framing your child's piano lessons, or whichever instrument they may be learning, as a fun activity rather than a job, there's a far greater chance it is a time they'll look forward to.
Praise their achievements, no matter how small
Regardless of the level your child is at with his or her instrument, all progress should be applauded. Encouragement is a form of positive reinforcement and is much more likely to help create a happy musician. This is particularly true for those just starting out.
Pique their musical curiosity
Music is best learned and instruments most easily played when there is passion behind the voyage. By exposing kids to new music and musical genres, you can really rev the excitement they have about the music itself. This will lead them to eagerly seek out more and improve their own musical abilities.
Go with what they love
You may have liked the idea of your child playing the violin but they prefer to play the guitar. That's ok! Try not to pressure your child into learning the instrument that you want them to play. Even the very best guitar lessons won't help your child much if their heart isn't in it.
Let them be creative
Music is an art. Sure, it takes hours of practice learning scales and annotation to be able to perform music to the highest level, but art it remains. And art is about creation. So let your child roam and express themselves in their own musical way. This is the key to finding their own music potential and with it great joy.
Hold a concert
Most kids love to show off what they've learned, even if they've just had their first music lesson! One great way to do this is to schedule mini-concerts where your child is able to exhibit their newest song or scale. This also helps lessen any anxiety around public performance and helps your child look forward to a special occasion.
Provide regular challenges
The best online piano lessons should help your child improve their piano playing abilities quickly. If your child is flying through the grades, keep them dedicated by providing challenges. When they succeed, you can give them a prize.
Hire the best music teacher
Remember that school subject your loved but was ruined by a teacher you didn't like? Don't let that be the same for your child and music. It is vital to find the piano teacher or guitar teacher, with who your child feels comfortable, learns from, and, most importantly, enjoys learning from. A great teacher can make all the difference. That why looking for music lessons requires some work. But it's worth it.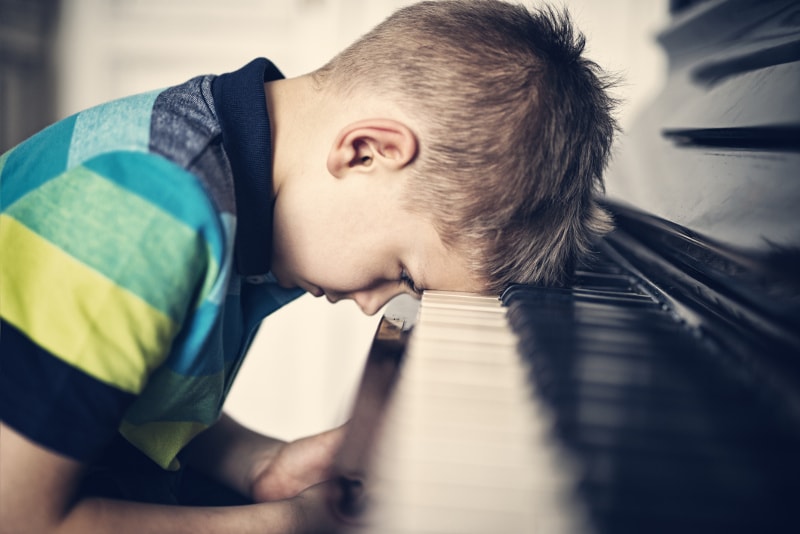 Choosing the Best Music Lesson Methodology for Your Child
The best music lessons Toronto provides include a variety of music lesson methodologies. Music lessons for kids use different approaches to those of adults. Here's a run-down of the four most popular teaching methodologies.
Dalcroze Method
The Dalcroze Method, also known as Eurhythmics, employs all the senses. The method leverages sight, touch, and movement to develop natural music ability. This means that listening as well as visual and tactile senses. If your child likes piano classes with a side of dance, this could be for them!
Kodaly Method
Hungarian composer Zoltan Kodaly gave his name to a music method that emphasizes the importance of starting young. A more classical method, children will learn sight-reading and pitch, with singing playing a major part.
Orff Approach
This method is a more holistic musical approach, including the use of percussion instruments and musical story-telling. With the Orff approach guitar lessons for kids become the scene of imitation, improvisation, and self-composition. This method focuses on creativity.
Suzuki Approach
Perhaps the most famous musical teaching method, the Suzuki Approach, or the mother-tongue approach as it is also known, intends to teach children music like they learn their native language. Listening and imitation are utilized before repetition helps build the musical vocabulary. The most naturalistic approach.
How to Choose the Right Music School
Know the teachers
Finding out about the teachers at a school is just as important as finding out about the music lessons available.
… And know their qualifications
Piano lessons for kids aren't the same as those for adults. Children cannot be expected to pursue their own education in the way an adult should. That's why highly-qualified teachers are necessary for your child. Neighbournote music school employs Juno-nominated teachers, professional recording artists, and teachers of distinction. Our piano lessons for kids are industry-leading and the music programs Neighbour Note offers are the very best available. All led by incredible teachers.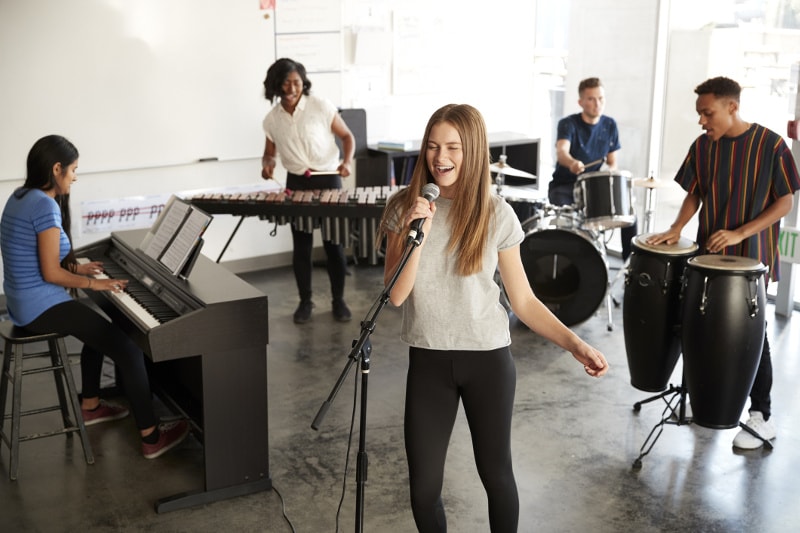 Ensure the school has recognized practices
The methodologies that school teachers will offer an insight into how it functions, and what might be best for your child. While music isn't learned simply by rote, appropriate methods are important. Extra activities are important to note. Neighbour Note music camps are a good example.
Find the school that puts the child first
The best guitar lessons for kids and piano lessons for beginners are those that put the child first. The student's welfare, enjoyment, and success are all key.
Motivating your child to succeed with their instrument takes patience and care. Without motivation and the eagerness to learn, the most expensive piano lessons Toronto can offer will not help your child improve. At Neighbour Note music school, our team of teachers – award winners and recorded artists – guide your children to excel.
We offer both in-person and online music classes for your choice and, during this current crisis, security. There are few more creative and productive ways for your child to use their current free time than to learn a new instrument through online music classes. With Neighbour Note music school, your child will learn and laugh. Get in touch todayto give them the best head start!