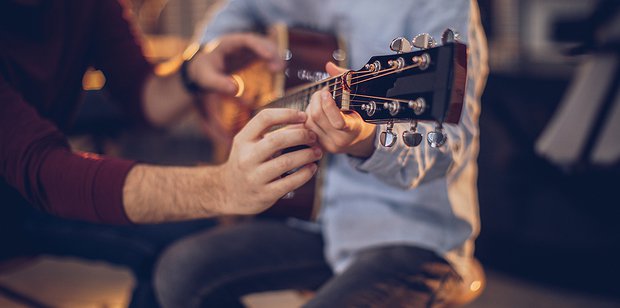 Diversity is a great reason to take guitar lessons with Neighbour Note. We offer guitar lessons for many different genres and styles such as: classical, folk, flamenco, jazz, blues, rock, metal, and country. Students can learn to play on the electric guitar, acoustic guitar, and the classical or Spanish guitar.
It's never too late to start learning how to play the guitar. Some students start as young as 3 years of age while others start as old as 86 years of age. Young children need to learn using a guitar method for early learners. Unfortunately, many of the guitar methods for young children are boring and one dimensional. They often only focus on learning to play chords or note reading. The songs found in these methods are often boring and children often fail to connect or get motivated by the music being taught. Toronto based guitar teacher John Force has written a guitar method for young children focusing on basic tablature reading skills with ear training exercises. The method has been quite successful. Students learn to play music by ear and by reading guitar tablature using fun and modern songs. There are many great adult guitar methods available for both specific genres and for generalized study. Students can learn by video or by traditional note reading books with audio recordings.
Getting started on your guitar journey is as easy as purchasing a guitar of your choice and then hiring a professional teacher. A great teacher will suggest an appropriate guitar method for you. I highly recommend purchasing a guitar from a music store. Guitars need to be setup. Most guitars online need a setup so you will have to make a trip to your local music store anyway.
Why to Start Taking Guitar Lessons
The advantages of taking guitar lessons with Neighbour Note are numerous. All students have the option of learning at home via online with Skype or Zoom, in-home in person with an actual teacher, or at a studio. First and foremost, you will always get a professional educated, experienced guitar teacher. Someone who has been teaching for many years and someone who has a minimum of a Bachelors degree in music. Besides being professional, educated, and experienced Neighbour Note guitar teachers are friendly, courteous, and fun! The second advantage of taking guitar lessons with Neighbour Note is the lesson rate. Neighbour Note offers guitar lessons starting as low as $30 per lesson for studio rates and $35 for in-home rates. Online lessons cost the same as studio rates. Another advantage of Neighbour Note guitar lessons is a diversity of genres or styles. Currently, Neighbour Note offers classical, folk, flamenco, jazz, blues, rock, metal, and country guitar lessons. Students can learn to play the electric guitar, acoustic guitar, or Spanish or classical guitar. Numerous yearly performing opportunities is yet another advantage of taking guitar lessons with Neighbour Note. All of our students get the opportunity to perform 3 or 4 times a year at student music recitals, street festivals, and other professional events in the community. Playing music for an audience is an incredibly rewarding experience. It is also a great way for students to share what they have learned with others. Music programs such as rock band, guitar ensemble and the string initiative are yet more advantages of taking lessons at Neighbour Note. Guitar students can test their skills by joining a rock band or a large guitar ensemble. They can learn team work and accountability as they play together in a group setting. Guitar students can learn to create music in a band or group setting.
Neighbour Note guitar teachers are truly gifted musicians. Dr. Scott Hanenberg is currently teaching guitar at Virginia Tech University. Navid Niknejad is currently completing a doctorate of musical arts DMA at the University of Toronto. Oscar Rangel and his band Operus are currently signed with the recording label Sony Music. Five Neighbour Note guitar teachers have completed masters degrees in music (MMUS).
Most people choose Neighbour Note for music lessons based on our reputation as a music school. Neighbour Note was awarded a Three Best Rated Award for being one of the top three music schools in Toronto. We have numerous reviews all over the world wide web. Another reason why people choose Neighbour Note is our music lesson rates are among the cheapest and most affordable rates in the city of Toronto. We offer a free trial lesson for all of our students. Convenience is yet another reason people take lessons with Neighbour Note. Students can learn at home, in a studio, or online. A big reason people choose Neighbour Note is the education and experience of our music teachers.
We are excited about the launch of our new online virtual guitar lessons. Using platforms such as Skype or Zoom our talented guitar teachers can now offer lessons to students across the globe. Online guitar lessons give students a glimpse into the private studio of a teacher. They can see the work space where teachers often create music by writing, recording or just simply practising their craft. Online lessons are cool!
Highly educated, experienced guitar teachers, fantastic rates, a free first lesson, convenient lesson options (in-home, studio, online), numerous performing opportunities for students, diversity of genres, styles, and guitar types (electric, acoustic, classical), exciting ensembles (rock band, string initiative) are all reasons why you should give Neighbour Note a try with a free lesson. Have a blast learning to play the guitar with Neighbour Note. You will not be disappointed!