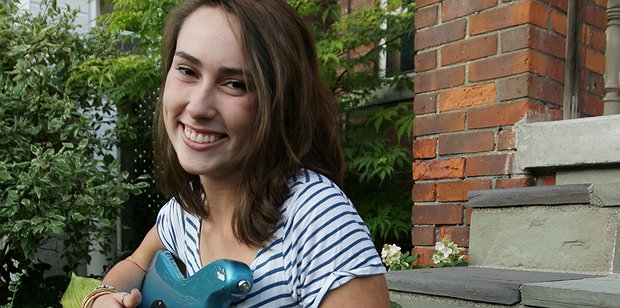 Happy New Year! January is a popular time to sign up for music lessons. Many people like to learn something new as the year begins. Music lessons are a great way to have fun, relieve stress, and just enjoy learning.
Neighbour Note offers a wide variety of music lessons from Contemporary and Modern to Traditional and Classical. They teach just about every instrument including singing. Students can learn piano, guitar, bass, drums, singing, violin, cello, viola, double bass, ukulele, saxophone, flute, trumpet, trombone, clarinet, french horn, oboe, bassoon, tuba, euphonium and baritone, banjo, mandolin, harp, bagpipes, and even the sopilka.
Talking about every instrument we teach will make for an extremely long article. For now, let's just look at the top four instruments:
Piano lessons are available for genres such as Classical, Jazz, Pop, Rock, Musical Theatre and more. Neighbour Note piano lessons cover a broad range of musical styles. Our goal is to allow students to learn and experiment with as many different types of music as possible so they can make their own decisions as to which style or genre they wish to specialize in.
Acoustic, electric, and classical guitar lessons are available for genres such as Pop, Rock, Blues, Metal, Country, Jazz, Classical, Flamenco, and more. Again, eclecticism is key. Here, students get exposed to different musical genres or styles, allowing them to explore the instrument with as much variety as possible.
Bass guitar lessons are offered in the following styles or genres: Funk, Dance and EDM, Rock, and Metal. Neighbour Note bass lessons are extremely fun. Feel the groove and move to the music as you slap and pop your way through Funk, drive the rhythm for Rock and Metal, drop the bass for Dance and EDM, and walk the bass for Jazz or Blues.
Drum lessons are also extremely fun and rewarding. Hitting a drum is just plain therapeutic! Neighbour Note offers specialized drum lessons in Jazz, Rock, Blues, Pop, Funk, Heavy Metal, Punk Rock, and Ska.
Neighbour Note offers online music lessons, in-home music lessons and studio music lessons. Online music lessons are the safest way to learn an instrument. You can learn from the comfort of your home in complete isolation. The learning environment is relaxed and safe. In-home music lessons are also a great way to learn. The learning environment is also relaxed and safe. The same can be said about our studio music lessons. The main benefit of studio music lessons is the social aspect. Students get to meet some of the other students and family members while learning at the studio.
In Toronto, we service the following neighbourhoods/areas: Bloor West Village, Swansea, Baby Point, Runnymede, Upper Bloor West Village, High Park, the Junction, the Kingsway, Old Mill, Etobicoke, Roncesvalles Village, York, Sunnylea, Parkdale, Dufferin Grove, the Annex, Little Italy, Trinity Belwoods, Midtown, Yorkville, Downtown, St. James Town, Cabbage Town, St. Lawrence, Riverdale, Player Estates, the Danforth, North York, Rosedale, Summerhill, Moore Park, Deer Park, South Hill, Rathnelly, Casa Loma, Wychwood Park, Hillcrest, Regal Heights, Forest Hill, Cedarvale, Humewood, Oakwood Vaughan, Belgravia, Briar Hill, Beechmount, Glen Long, North Fairbank, Fairbanks, Viewmount, Glenwood, Lytton Park, Lawrence Park, Blythwood, Sherwood Park, Chaplin Estates, Davisville, Leaside, Laird, Overlea, Thorncliffe Park.
For studio lessons, our music studio is located in Toronto's High Park neighbourhood.