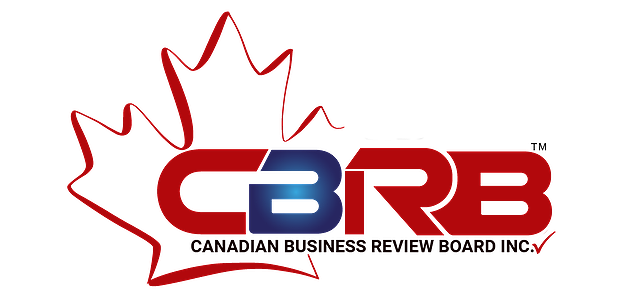 The Canadian Business Review Board (CBRB) has just selected and approved Neighbour Note for the CBRB Best Businesses in Canada 2022. This offer is presented only to businesses that have maintained a 4+ star Google review rating or equivalent proof of customer satisfaction. Representing the Best Businesses in Canada, the CBRB Canadian Business Review Board Inc. has found that Neighbour Note meets strong consumer satisfaction standards and they look forward to recommending Neighbour Note's services. Membership in the CBRB Best Businesses In Canada 2022 Brand Awareness Program includes listing in the exclusive 2022 Best Businesses Directory, use of the 2022 CBRB Best Businesses verification badge, and custom content to promote Neighbour Note's commitment to upholding a strong vision, customer-centric approach, customer satisfaction, and business leadership.
The CBRB Canadian Business Review Board Inc. was developed by a group of private investors that wanted to pair innovative marketing with the moral directive of promoting businesses that were most likely to deliver a positive experience for consumers. This exclusive and adaptive marketing approach drew rapid interest from hundreds of businesses and consumers within the very first month of the CBRB's Best Businesses Web Directory and Instagram launch. With the CBRB's iterative and agile development methodology to enhance membership criteria, produce captivating commercials, and best target relevant consumer groups, the CBRB verification badge has become a symbol of customer satisfaction across Canada.
A music school is only as good as its teachers. What separates Neighbour Note from the competition is the education and experience of our teachers. Neighbour Note only hires elite teachers. Two of our teachers were nominated for Juno awards in 2020. Twelve of our teachers have completed a PhD or DMA in music. Two of our teachers currently have recording contracts with Sony Music. Forty-two of our teachers have completed a Masters degree. All of our teachers are passionate about teaching. We are so proud of our teaching faculty! They are truly committed to their craft and love to teach.
Another key reason that separates Neighbour Note music school from the competition is the diversity of music programs that are offered. Music programs such as the String Initiative offer string players (violin, viola, cello) a chance to play in a group setting. The String Initiative is designed for aspiring string instrumentalists who wish to learn the collaborative aspects of music making. While one-on-one lessons are one of the most important components in learning how to play an instrument, the process of collective music making is difficult, if not, impossible to recreate in a lesson format. For this reason, the String Initiative allows students to experience the process of playing chamber music and provides them with a more enriching musical experience for all involved. The String Initiative is run by award-winning graduates of the University of Toronto's graduate music programs, specifically members from the Interro Quartet which includes violinists Adam Despinic and Dr. Steve Koh, violist Maxime Despax, and cellist Sebastian Ostertag.