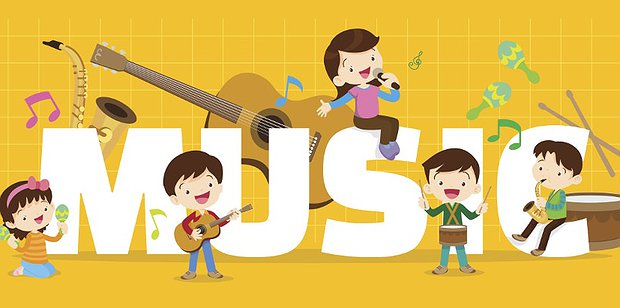 Now is a great time to sign up for music lessons with Neighbour Note. The new year is almost here so why not start something new? Learning an instrument is incredibly rewarding and not to mention fun! It is a proven fact that studying music makes you happier and smarter! What better way to start the new year?
Why choose Neighbour Note for music lessons? Our music lessons are tailored to meet an individuals wants and needs. Students get to learn the music that interests them the most while learning and developing essential technique that will improve the necessary skills needed in order to perform. This approach is highly motivational and ensures that students will remain interested and challenged.
Neighbour Note offers a minimum of four student music recitals per year. Performing music for an audience makes people happy. Students often feel quite proud of themselves once they finish performance for an audience. It can be nerve racking performing but the feeling of finishing a performance can be extremely rewarding. Participating in a recital is also a great way to meet people. Fellow music students, family members and teachers are all coming together with the common goal of enjoying and encouraging the participants of the music recital. What a great way to support music students!
Neighbour Note offers a wide variety of music lessons from Contemporary and Modern to Traditional and Classical. Piano lessons are available for genres such as Classical, Jazz, Pop, Rock, Musical Theatre and more. Acoustic, electric, and classical guitar lessons are available. Genres for acoustic and electric guitar include Pop, Rock, Blues, Metal, Country, Jazz, Classical, Flamenco and more. Aside from the more popular instruments like piano, guitar, bass, drums singing, violin, cello, viola, double bass, ukulele, saxophone, flute, trumpet, trombone, clarinet, french horn, oboe, bassoon, tuba, euphonium and baritone, banjo, mandolin, and harp, less common instruments such as the sopilka and bagpipes can also be learned.
We offer online music lessons, in-home music lessons and studio music lessons. Online music lessons are the safest way to learn an instrument. You can learn from the comfort of your home in complete isolation. The learning environment is relaxed and safe. In-home music lessons are also a great way to learn. The learning environment is also relaxed and safe. The same can be said about our studio music lessons. The main benefit of studio music lessons is the social aspect. Students get to meet some of the other students and family members while learning at the studio.
In Toronto, we service the following neighbourhoods/areas: Bloor West Village, Swansea, Baby Point, Runnymede, Upper Bloor West Village, High Park, the Junction, the Kingsway, Old Mill, Etobicoke, Roncesvalles Village, York, Sunnylea, Parkdale, Dufferin Grove, the Annex, Little Italy, Trinity Belwoods, Midtown, Yorkville, Downtown, St. James Town, Cabbage Town, St. Lawrence, Riverdale, Player Estates, the Danforth, North York, Rosedale, Summerhill, Moore Park, Deer Park, South Hill, Rathnelly, Casa Loma, Wychwood Park, Hillcrest, Regal Heights, Forest Hill, Cedarvale, Humewood, Oakwood Vaughan, Belgravia, Briar Hill, Beechmount, Glen Long, North Fairbank, Fairbanks, Viewmount, Glenwood, Lytton Park, Lawrence Park, Blythwood, Sherwood Park, Chaplin Estates, Davisville, Leaside, Laird, Overlea, Thorncliffe Park.
For studio lessons our music studio is located in Toronto's High Park neighbourhood.
Sign up today and see why so many families choose Neighbour Note for music lessons.