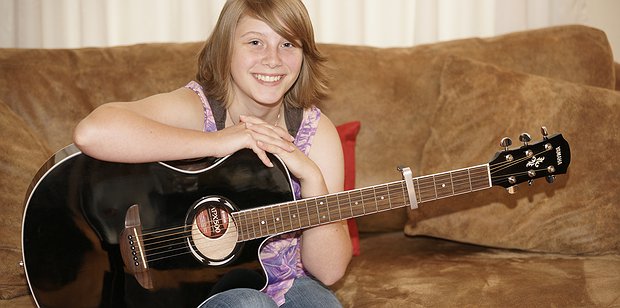 November is a perfect time to purchase a gift for the holiday season. Neighbour Note offers gift certificates for all of their lessons, classes, and programs. Guitar lessons make a great gift. The guitar is one of the most popular instruments to learn. It is an extremely versatile instrument.
Neighbour Note offers guitar lessons for Blues, Rock, Pop, Jazz, Classical, Folk, Metal, Reggae, Country, R & B, and more. Students can choose between acoustic, electric, and classical guitar. Our lessons are fun, eclectic, challenging, and rewarding. We have some of the highest educated and experienced guitar teachers in Canada. Two of our guitar teachers have completed a PhD and are currently teaching at universities. Five of our guitar teachers have completed a Master of Music degree in guitar performance. Guitar teacher Oscar Rangel has performed at major music festivals in Germany and Mexico including Force Fest and Hell and Heaven. His band Operus is currently signed with Sony Music.
Students can choose between online, in-home, or studio lessons. Our studio is located in High Park Toronto. For in-home lessons we service the following areas: Bloor West Village, Swansea, Baby Point, Runnymede, Upper Bloor West Village, High Park, the Junction, the Kingsway, Old Mill, Etobicoke, Roncesvalles Village, York, Sunnylea, Parkdale, Dufferin Grove, the Annex, Little Italy, Trinity Belwoods, Midtown, Yorkville, Downtown, St. James Town, Cabbage Town, St. Lawrence, Riverdale, Player Estates, the Danforth, North York, Rosedale, Summerhill, Moore Park, Deer Park, South Hill, Rathnelly, Casa Loma, Wychwood Park, Hillcrest, Regal Heights, Forest Hill, Cedarvale, Humewood, Oakwood Vaughan, Belgravia, Briar Hill, Beechmount, Glen Long, North Fairbank, Fairbanks, Viewmount, Glenwood, Lytton Park, Lawrence Park, Blythwood, Sherwood Park, Chaplin Estates, Davisville, Leaside, Laird, Overlea, Thorncliffe Park.