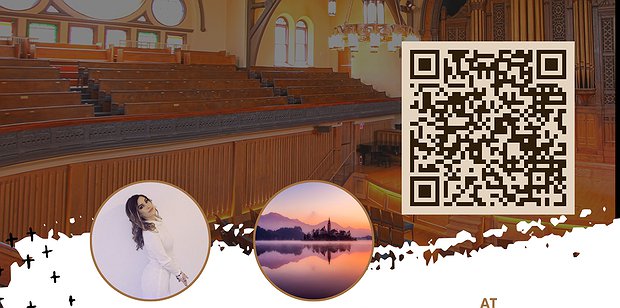 Neighbour Note piano and singing teacher Dr. Nina Soyfer will be performing a recital on Sat, Oct 7, 2023 4:30 PM - 5:30 PM EDT at Trinity-St. Paul's United Church and Centre for Faith, Justice and the Arts, 427 Bloor Street West Toronto, ON M5S 1X7. Come out and enjoy an evening of beautiful piano and voice music as if heard in a dream featuring classical, pop, healing, and even rap, all in 30 minutes. Meet great people, relax and enjoy.

The recital program is a combination of classical music, movie soundtrack music, and pop music, as well as a new style Dr. Nina Soyfer is developing where native American rap and classical piano come together. Nina will be performing some of her original compositions including The Lake Song and Where Do You Go?, both of which will be performed by Paul Therrien and Stevie Beat, and of course Dr. Nina Soyfer. The producers behind the beats for these songs are Popkris and Christopher Letts. Other performance pieces include: J.S. Bach, Tocatta and FUGUE in D major, BWV 912, Sergei Rachmaninoff, Etude Tableaux in F sharp minor, Wish I Stayed, Look Into Your Heart, Pretty Angry, and Love. Some of these songs were created and dreamt of in meditation with Nature. Nina composed Wish I Stayed, Look Into Your Heart, Pretty Angry, and Love.

From soulful ballads to energetic pop hits, Nina will take you on a musical journey like no other. Her powerful performances and heartfelt lyrics will touch your soul and leave you wanting more. Experience the talent and charisma of Nina Soyfer as she takes the stage to showcase her unique blend of music and artistry. With her captivating voice and mesmerizing presence, she is sure to leave you spellbound.

Don't miss out on this unforgettable event! Grab your friends and family, and join us for a night of pure enjoyment. Get ready to dance, sing along, and create lasting memories at the Nina Soyfer October Show.

Dr. Nina Soyfer is a Ukranian-Canadian composer, conductor, pianist, vocalist, guitarist, musicologist, prize-winning painter, poet, dancer/choreographer, yoga instructor, and music teacher. Nina teaches piano, singing, and sopilka (Ukranian Flute) lessons here at Neighbour Note. As a student, Nina has over twenty-five years of music education and practice. Dr. Nina
Soyfer has completed a PhD in Musicology, a Master of Arts in music, and a Bachelor of Fine Art degree from York University. She has also completed both an LRCM and an ARCT diploma from the Royal Conservatory of Music. As a teacher, Nina has developed her own teaching method entitled Integrated Arts Method or IAM for short. Nina has taught music at York University in Toronto and at the M.D. Leontovich Music College of Culture and Arts in the Ukraine.

Nina's career as a composer began in 2003 with her prize-winning piano miniature Frolicsome Polka, which was published in Suzir'ya Muz magazine and premiered in the Ukraine. Dr. Nina Soyfer has completed over one hundred compositions, mainly for piano, voice, percussion, guitar, as well as string quartet and orchestra.

Come join us for the Nina Soyfer October Show on Saturday, October 7, 2023 at 427 Bloor Street West, Toronto, ON M5S 1X7. Get ready for an evening filled with incredible performances, laughter, and entertainment!

Tickets: https://www.eventbrite.ca/e/nina-soyfer-october-show-tickets-712576644927?aff=oddtdtcreator
Mark your calendars and get your tickets now. We can't wait to see you there!