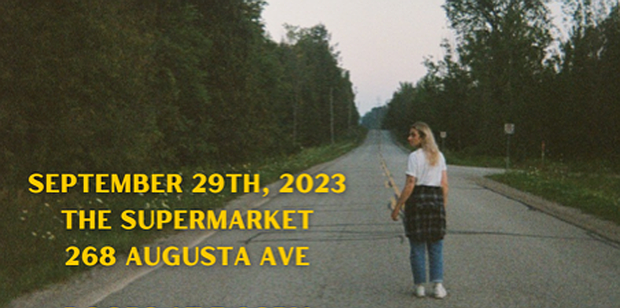 The very talented singer, songwriter, composer, and multi-instrumentalist Lauren Mayer is releasing a six song EP this Oct. The EP is entitled 'The Great Unknown'. Lauren is an exceptional musician and educator. We are thrilled to have Lauren as part of the Neighbour Note faculty. Lauren teaches voice, piano, guitar, and ukulele.

https://www.neighbournote.ca/t...
Lauren Mayer (she/her) is a performer, singer/songwriter, multi-instrumentalist, and music educator. She is a recent graduate of Berklee College of Music's prestigious Songwriting Masters program, holds an MA in musical theatre performance from the Royal Conservatoire of Scotland, and is a graduate of Randolph College for the Performing Arts. She has a varied performance background that includes theatre, television, and live music performance, and has performed her original music in venues all around Toronto.
Lauren has studied with Elaine Overholt, and worked with Canadian singer/songwriter and producer Amy Sky as a backing vocalist on Olivia Newton John's Christmas album, A Christmas Wish. She has performed with various local and regional theatre companies including Tweed and Company Theatre, and Hart House Theatre as an actor/musician. Additionally, Lauren has worked abroad, and has performed in the Edinburgh Fringe Festival.
In 2020, she released her debut five-song EP, 'Second Sight', two singles that followed suit, and has recently finished recording her next project. Her entire music catalogue can be found on all streaming platforms.

Theatre credits include: Yitzhak in Hedwig and the Angry Inch (Hart House Theatre), Molly the Witchy Woman in The Haunting of Hungerford House (Tweed and Company Theatre), Little Sally in Urinetown (Assembly Theatre, Edinburgh), Lavinia in Willy's Bitches (Assembly Checkpoint, Edinburgh), and Florina in Into The Woods (Randolph Theatre)

Recording credits include: 'The Great Unknown EP' (Lauren Mayer), 'Lighthouse' (Lauren Mayer), 'Second Sight EP' (Lauren Mayer), 'A Christmas Wish' (Olivia Newton John/Amy Sky), and 'Modern Art' (The Purcell Project).
On September 29th 2023, Lauren will be releasing her brand new 6-song EP, titled 'The Great Unknown'. This is a collection of songs that were all written, co-produced, and recorded in her home studio.
There will be an epic release show happening on September 29th at the Supermarket in Kensington Market. For the first time, Lauren will be playing with a massive 7-piece band, and will be playing all tracks from her new EP, some unreleased tunes, and some older tracks from her first EP. The night will also feature a beautiful opening set from Lunar Bloom, an enchanting all-female folk trio, who's music is filled with witchy harmonies and spellbinding vocals.
Lauren Mayer's 'The Great Unknown', paints a lush landscape of present fears, past mistakes, and the exhilarating, anxiety riddled, yet powerful moments to come. Each song is a vibrant tapestry of emotion and imagination, weaving cinematic soundscapes that pull listeners into vivid narratives. Her signature style is a romantic symphony, brought to life by flourishing strings and captivating guitars that dance harmoniously with soaring melodies. With 'The Great Unknown,' she invites her audience to embark on a journey through her enchanting world.
'The Great Unknown' will be released on all streaming platforms!