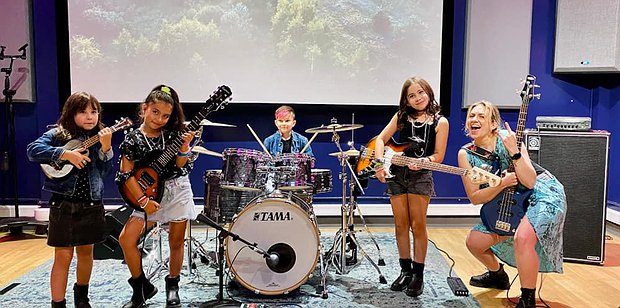 Music camp registration is in full swing! We had a great March Break and are now gearing up for our Toronto summer camps 2023 . There are still spaces available so if you have not registered yet there is still time to sign up for one of our Toronto summer music camps.
Teens Rock! Band Camp is one of our most popular Toronto music camps. Teenagers have a blast learning their favourite songs by their favourite bands. Some rock bands even write their own music. You can hear some student recordings of original music here:
https://soundcloud.com/neighbour-note
Little Rockers Band Camp is also quite popular. This music camp is similar to Teens Rock! Band Camp except the students are much younger. This means Little Rockers Band Camp participants usually play smaller sized instruments.
All of our student rock bands get a chance to perform at the end of the full week camp. This a fantastic way to end each Toronto music camp. It's not only a celebration of a fun week but also a showcase of all the hard work students have done throughout the week.
There are many benefits to participating in a Toronto music camp. For Teens Rock! Band Camp and Little Rockers Band Camp students learn team work and accountability as they work together in a group setting. Playing in a band is quite challenging. You need to work together as a team. While jamming and improvising are fun they also require a great deal of listening. Students need to listen to themselves and to each other to make sure the band is playing together as a single unit.
The same can be said for our Guitar Ensemble Camp. Guitar ensemble is like a rock band except it only features guitars. A typical guitar ensemble will include electric and acoustic guitars. There is usually a bass guitar as well. Here is a video of one of our guitar ensembles performing live in Toronto!
So how does Teens Rock! Band Camp, Little Rockers Band Camp, and Guitar Ensemble Camp work? All participants are formed into groups of three to five members. Each band will work together to write songs, create band names and logos, and learn to play some beginner rock tunes! All band members will receive introductory tutorials on guitar, bass, drums, keyboard, and vocals. For guitar ensemble, all group members work together on playing three or four part harmony arrangements of popular music, film scores, and video game music! Playing three and four part harmony arrangements are quite challenging. The timing has to be precise or the entire song will fall apart. It takes a great deal of hard work and team work to hold it all together. The end result is absolutely amazing. It is so much fun to hear a guitar ensemble perform!
Our Legends and Lore, Music and More summer music camp is also a popular choice for parents. This camp is for younger students usually ages six to ten. What makes this camp unique is the theme of the camp. The entire camp is based on a famous fable, legend or myth. This is quite a diverse eclectic camp. It includes storytelling, drama, dance, music, and arts and crafts.