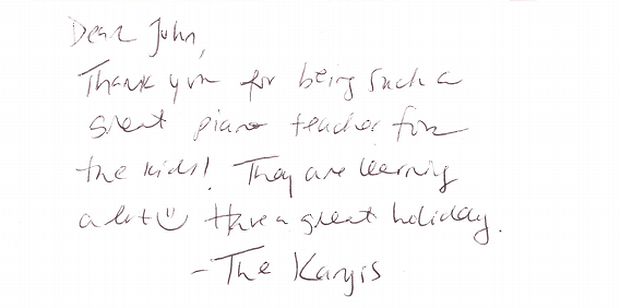 The blog post this month is all about the Neighbour Note students and their families. We really appreciate you sticking with us during the COVID 19 pandemic. You have been very patient and understanding throughout these difficult times.
Transitioning to online music lessons has been challenging for some students but through it all we have managed and will continue to manage and continue to have success. We have already talked about the benefits and challenges of online music lessons in previous posts. Just to recap, the ability to video record the music lessons and to get close up videos and different camera angles has been invaluable to the learning process. The major drawback to online music lessons has been a lack of personal connection in some cases. Sitting in front of a computer or tablet screen can be challenging for some learners. Some students simply learn better in person.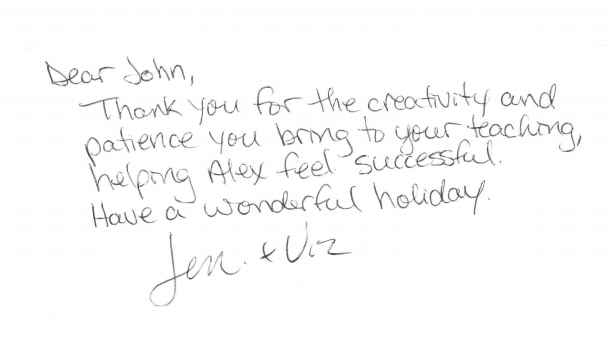 Over the years Neighbour Note students and their families have shown their appreciation by writing letters and cards to their music teachers. Some students created art work for their music teachers while others wrote some very endearing letters and thank you cards stating their appreciation for all of our hard work and dedication to teaching and learning. You can view some of the many thank you cards we have received over the years in our Appreciation page on the Neighbour Note website.
Our music teachers are well deserving of this praise. They are the main reason why so many students and families choose Neighbour Note for music lessons. At Neighbour Note we have the highest educated teachers in North America working with us. We have created a network of passionate dedicated professionals who love to teach. They share our success by going above and beyond their regular duties as teachers and learners. Their dedication to teaching and learning is unsurpassed. Many of our teachers have completed a PhD or DMA in music. They have spent most of their lives studying music privately and then at university. Some of our teachers are actual music professors. They are contract faculty at Ryerson University in Toronto, the University of Toronto, Acadia University in Nova Scotia, and Georgia State University.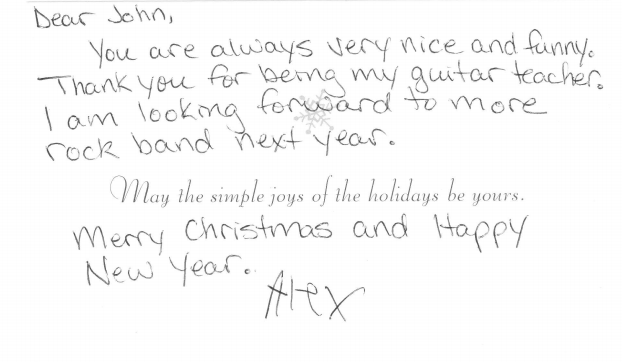 Our students have also been quite successful over the years and continue to be. They have won awards and completed challenging music examinations at the Royal Conservatory of Music. In 2015, Neighbour Note student Sarah Alexis received her A.R.C.T (Associate of the Royal Conservatory of Toronto) diploma in violin performance from the Royal Conservatory at Koerner Hall in Toronto. In 2013, Neighbour Note student Julia Cosolo successfully completed her Grade 8 examination in classical guitar performance at the Royal Conservatory of Music in Toronto. Also in 2015, bagpipe student James Mcintosh won his first gold medal performing on the practice chanter at the Pipers and Pipe Band Society of Ontario Competition held at John Weir Foote Armouries in Hamilton. In 2012, Neighbour Note bass guitar student Eamonn Stewart was part recipient of the Frederick Simpson Award for the Jump Cuts Young Film Makers Showcase prize at the T.I.F.F. (Toronto International Film Festival) Kids Film Festival Awards in Toronto. Eamonn composed music for a film entitled 'I Just Want To Go Home: A History of Residential Schools in Canada'. In 2003, Neighbour Note guitar student Tim Foran and bass student Matt Foran had their music featured on CBC music Canada. Tim and Matt formed the band the Early Morning.
Once again, on behalf of Neighbour Note I would like to thank all of our students and their families for their continued support. From the bottom of our hearts thank you!