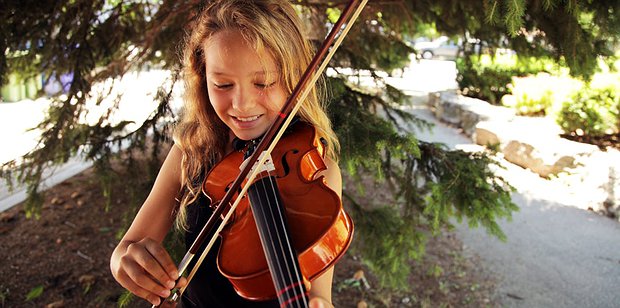 Summertime is not just for camps. It is a great time to learn a new instrument or to continue with your musical studies. Children need something to keep them occupied and this is a great alternative to video games or TV. Portable instruments like the acoustic guitar, ukulele, violin, viola, flute, trumpet, clarinet, banjo, and mandolin are practical because they can easily be taken on summer trips. They don't take up much room in the car or on a plane or train. Students can entertain their family and friends while relaxing and having fun by performing and practising. Singing lessons are also popular during the summer months. It does not get more portable than that! Your body is your instrument!
Acoustic guitar lessons at Neighbour Note are specialized for different age groups from young children as young as three years of age to adults as old as eighty-six. There is a specific guitar program for young beginners called Dragon Force. This guitar method inspires children and makes learning the guitar fun. The method itself is fun, motivational, and systematic. This is arguably the most modern and comprehensive guitar method for children and is only available to Neighbour Note students. Adult learners get the benefit of choosing between multiple genres of guitar music including Jazz, Classical, Rock, Folk, Pop, Blues, Metal, and Country. All students learn how to improvise.
The Ukulele is easy to learn and fun to play. This is a great starting instrument for young children due to its size. The name Ukulele actually means 'Jumping Flee' in Hawaiian. Thanks to bands and artists such as Train, Jason Mraz, and Vance Joy the Ukulele is once again a popular instrument.
The violin is one of the most portable instruments. At Neighbour Note, we specialize in both Classical violin and Fiddle. All students get to decide if they want to focus on learning from a traditional classical repertoire or modern scores from Film music, Pop, Folk, or Country. So whether you want to play in an orchestra or Do-si-do at a hoedown, one thing is for sure: you will have a blast learning with Neighbour Note!
Ah the Viola or what many people call the big violin. The Viola has a richer, mellower tone when compared with the Violin which tends to be more brilliant and flashy. Like the violin, the viola is also quite portable and fun to learn.
The flute is one of the earliest instruments ever created. George Washington and Leonardo da Vinci both played the flute! Bands such as Jethro Tull, Genesis, and Men at Work all helped increase the flute's popularity and helped it enter into mainstream Pop and Rock genres. Neighbour Note offers fun and modern flute lessons in Classical, Jazz. Pop, and Rock.
The trumpet is king! Not only is it the loudest solo instrument but it is also one of the oldest. The trumpet is well known for its majestic fanfares. This brilliant instrument can produce a multitude of tones. At Neighbour Note, we offer specialized trumpet lessons in Jazz, Classical, Blues, Funk, and R & B.
Clarinet lessons at Neighbour Note are fun, inspiring, eclectic, engaging, challenging, reflective, and gratifying. The clarinet is the gateway to the world of the woodwind. Not only is the clarinet versatile it is also extremely portable.
The Banjo is one of the most recognizable sounding instruments of all time. The unique twangy tone is what distinguishes the Banjo from other stringed instruments such as the guitar and mandolin. The Banjo has become incredibly popular in recent years with artists and bands such as Taylor Swift, Mumford and Sons, and The Avett Brothers. At Neighbour Note, we offer fun and challenging Banjo lessons in Folk, Country, Bluegrass, and Pop.
The Mandolin is related to the lute and has a similar range as a fiddle, making it an ideal instrument for Country, Bluegrass, and Classical music. Bill Monroe, Chris Thile, Jethro Burns, Yank Rachell, David Grisman, Mike Marshall, Dave Apollon, and Caterina Lichtenberg are some of the most influential mandolin players of all time. Neighbour Note offers mandolin lessons online and throughout Toronto in students' homes or their High Park music studio.
Not only does Neighbour Note offer summer lessons on the portable instruments they also teach Classical piano, Jazz piano, drum set, cello, double bass, harp, and tuba lessons.
Not sure what to do with yourself or the kids this summer? Learn an instrument with Neighbour Note. Your summer will be fun and memorable!