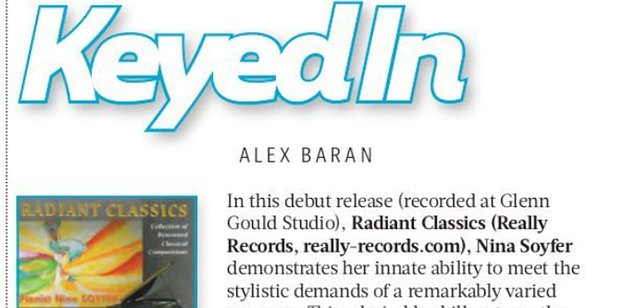 Dr. Nina Soyfer's debut piano album entitled Radiant Classics has been getting great reviews! In the latest issue of Whole Note Magazine Alex Baran compliments Nina on her piano technique by saying "Nina Soyfer demonstrates her innate ability to meet the stylistic demands of a remarkably varied program. This admirable skill rests on the foundation of an impressive keyboard technique and artistic insight." To read the complete review pick up the latest copy of Whole Note magazine or view this link.
Radiant Classics features works by J.S. Bach, Beethoven, Chopin, as well as a couple of interesting Preludes by Ukrainian composer Vasyl Barvinsky. Not many of Barvinsky's works survive since all of his scores were publicly burned in 1948! Barvinsky spent the rest of his days trying to recreate as many of his lost works as he could.
Nina is not only a pianist but also a composer, painter, dancer, singer, and educator. She painted the album cover for Radiant Classics which is available for purchase on i-Tunes or CD Baby. Dr. Nina Soyfer teaches piano and singing lessons here at Neighbour Note. Congratulations Nina. We could not be more proud of you!